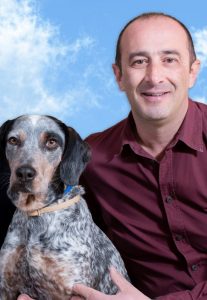 Evangelos (Vangelis) Diamantakos has a multidimensional background in canine behaviour, training, welfare and academia. He has senior managerial experience in operations, education and evaluation of canine staff in the armed forces, the public and the charity sector.
Vangelis is a member of the Animal Assisted Interventions Research Unit of the University of Queensland (AUS) and a provisional Member of the Association of Pet Behaviour Counsellors (APBC, UK). His research interest is in the area of human – dog bond and welfare and participates in Dog Assisted Intervention programmes as a designer, co-ordinator, behaviourist/trainer and researcher.
Vangelis is the author of three books and sees dogs on behavioural referral from veterinary surgeons in Greece and the UK.
For more information, please visit www.evangelosdiamantakos.gr or
or https://www.linkedin.com/in/evangelos-vangelis-diamantakos-28074146/