Assistance dogs are a very diverse group of working dogs that are trained to assist humans with different types of disabilities in their daily lives. There is well documented evidence relating to the benefits of therapy and assistance animals for enhancing human health and well-being, but it is critical that consideration is given from the perspective of the animal's needs to avoid welfare issues and ensure all the relationships are mutually beneficial. Research on assistance dog welfare status, cognitive and behavioural capacities, selection criteria for the best fitting individuals, effective training and management practices, and genetic issues, is relatively limited but there is growing interest in this area which will lead to better guidelines and standards in the longer term.
This session will explore some of the opportunities and challenges in provision of the five welfare needs for dogs in canine assisted programmes to safeguard their physical and mental wellbeing. It will also highlight how strategies and areas of focus need to reflect the different life stages of dogs, as well as showcasing how positive welfare experiences are crucial for creating successful partnerships between dogs and people with a disability. Good welfare outcomes will ultimately improve quality of life for both parties and should be a key priority in all assistance dog programmes.
Speaker: Nicola Martin BVSc MRCVS DMS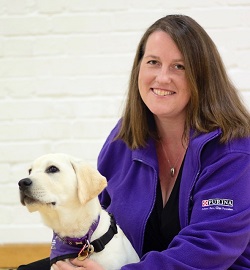 Nicola Martin is Chief Executive at Canine Partners, an assistance dog charity supporting adults with physical disabilities and a Trustee of Assistance Dogs UK (AD(UK)). As a qualified vet, Nicola spent 14 years working for veterinary charity PDSA where she spent six years working in one of their busy Pet Hospitals, followed by eight years as Head of Pet Health and Welfare; developing veterinary outreach services, animal welfare behaviour change initiatives and PDSA's evidence and impact strategy including creation of The PAW Report. Alongside this, she supported a wide range of organisational development initiatives and completed a Diploma in Management Studies.
Nicola is passionate about improving animal welfare through prevention and education and highlighting the physical and mental benefits that pets bring to all our lives.