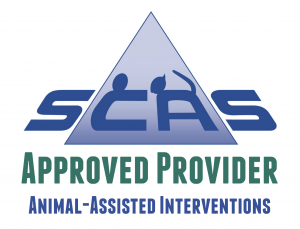 The SCAS AAI Approved Provider Programme has completed its pilot phase, and the results are being analysed. We anticipate opening the programme to public applications in early 2018.
The SCAS AAI Approved Provider Programme seeks to provide a platform for practitioners to evidence their quality standard and will also aim to provide clarity for the public seeking to understand what services are on offer and how they may (or may not) meet their needs and expectations.
The SCAS APP will consist of a quality standards assessment by which evidence will be submitted by practitioners, a quality standards award for those that meet the standard and a directory of services and practitioners.  The assessment will take place annually and practitioners will need to meet the standards assessment each year to remain on the programme.
The benefits of such a programme include:
Increased awareness and standards in both animal and human welfare
Providing clarity of provision to those seeking or interested in AAI
Helping to manage the needs and expectations of all parties more efficiently
A promotional and marketing tool for practitioners
A point of reference for potential clients, researchers, new practitioners
A mechanism for offering research, development and evaluation
A review process to feed back to the further development of the AAI CoP
A conduit for communication and networking between practitioners
Helping provide a stability in growth for the field
Helping to build credibility for AAI within the variety of the professional fields that it spans.
How will the programme work?
The aim of the pilot was to review and assess the processes and mechanisms of the quality standards assessment under an action management model and to refine as necessary before the programme is rolled out and open to public applications.
Applicants will start the application process by paying a non-refundable application fee.  They will then have access to our online SCAS APP website and will be able to start working through the sections of the quality standard assessment.  There are around 10 sections that largely correlate to the AAI Code of Practice.  Each section has a number of questions to answer or information to give, some of which require documentary supporting evidence.
The evidence will be assessed by our team of assessors, which is made up of members who have a history and evidence of providing quality AAI practice and/or research.
Those who are successful in their application will be required to pay their full registration fee and will be awarded their quality standard and accepted onto the APP for 12 months.  As approved providers they will be able to use the SCAS APP logo in their promotional literature and on display at their premises and will be listed on the SCAS Approved Provider Directory.