''One Health in AAI: Current trends and future collaborations in research and practice.''
More than 150 delegates from over 30 countries attended the International Association of Human-Animal Interaction Organizations (IAHAIO) symposium which took place from 24 to 26 October 2018 in Amsterdam, Netherlands. The symposium was hosted by the Dutch organisation AAIZOO.
IAHAIO members, academics, researchers, practitioners, students as well as experts from the field of AAI came together and discussed around the theme of the symposium.
During the oral presentations delivered by the very inspirational keynote speakers, the workshops and demonstrations held by dedicated professionals and the posters presented by enthusiastic and passionate researchers/professionals, the participants had the opportunity to get informed and engaged in interactive and inspiring dialogues around various aspects of AAIs. Participants had the options to take part in two out of four special sessions and two out of five demonstrations held during the symposium. You can find more information about the symposium's programme here.
All sessions were very well attended and triggered enthusiastic conversations about the importance of strengthening global Human-Animal Intervention collaborations in the future. Moreover, insights and discussions arose during the event such as how innovative solutions and ideas in AAI practice may improve One Welfare for humans, animals and the environment.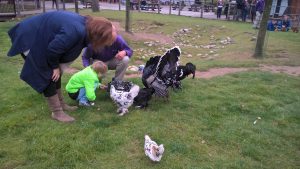 During the breaks and the very well organised social events, the participants had the opportunity to meet each other, relax, socialise, exchange ideas and discuss among others about past achievements, current work and future plans in AAIs.
It was a very well organised symposium indeed! It is not an exaggeration to say that every participant was glowing in their praise of the event and the team that organised it. It is always a pleasure hearing happy and enthusiastic delegates who really enjoy their participation in educational gatherings of the AAI community.
Last, but not least, it is worth stating that the Society of Companion Animal Studies (SCAS) is a founder member of IAHAIO.
Evangelos Diamantakos, SCAS Trustee
Elizabeth Ormerod, SCAS Trustee and a Vice President of IAHAIO adds, it was very apparent that the mixed format of delivering knowledge via presentations, workshops, posters combined with visits to AAI programmes was much appreciated by the delegates, as were the opportunities for networking and renewing friendships. It is wonderful to be in an environment with others in alignment about human and animal welfare. The emphasis on welfare and safe practice was very encouraging and there was greater veterinary involvement than in the past.
I'll just mention two of my conference highlights. Firstly, the poster presentations which were each delivered orally as flash presentations in 5 minute time slots. This was a superb approach and much more information was imparted compared to standard poster delivery. It is expected that this approach will be adopted at future IAHAIO meetings. The other big standout for me was the practical session involving delegates "swimming with dolphins" in the swimming pool! This virtual reality (VR) intervention can take place anywhere on dry land, or for greater effect, in a swimming pool. Film of wild dolphins swimming in the ocean is played whist wearing VR goggles. The effect is staggering. VR provides an alternative to swimming with captive dolphins; it is free from risk of dolphin associated injuries and zoonoses; it is affordable; it is accessible for patients in any setting, e.g. hospitals, nursing homes; and children and their families can access this in their own homes. It is anticipated that this will replace dolphin-assisted interventions involving captured dolphins. Such interventions are increasingly criticised and felt to be unacceptable due to the myriad of associated documented welfare issues affecting people and dolphins.
The next IAHAIO conference is the Triennial which will be held at Green Chimneys, New York State. Details of this cab be found on the IAHAIO website.
IAHAIO Annual General Meeting (AGM)
Elizabeth and Vangelis attended the IAHAIO AGM which was held on the preceding day. Amongst other business, the member organisations of IAHAIO ratified the updated version of the IAHAIO White Paper. This provides the internationally accepted definitions for Animal Assisted Interventions (AAI) and guidelines for the welfare of animals involved and has been translated into a number of languages.