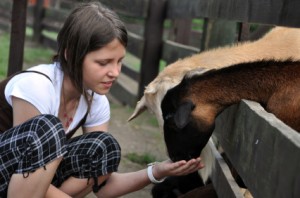 A networking event, hosted by Hereford Community Farm and Dogs for the Disabled will be held on Friday 15th November at Hereford Community Farm in Herefordshire.
SCAS will be presenting the Animal-Assisted Interventions Code of Practice as part of the day-long programme that will also include presentations and workshops from:
Developing AAI work at Dogs for the Disabled – by Helen McCain
Animal Assisted Intervention International – Peter Gorbing, Dogs for the Disabled
Equine Assisted Psychotherapy – by David Tidmarsh, Equine Assisted Solutions
Animals and practitioners – by Jane Fossey, Associate Director or Psychological Services Oxford Health NHS Foundation Trust
Working with small animals  – Julie Milsom, Hereford Community Farm
Working with dogs – Katie Bristow-Wade, Team Leader of the PAWS project at Dogs for the Disabled
Working with horses  – David Tidmarsh
There is also a networking dinner in the evening.
Price to attend the day is £40 per person and an additional £15 per person to attend the dinner.
For full programme, details and booking arrangements please contact Katie Bristow-Wade via email katie.bristow-wade@dogsforthedisabled.org or phone Katie on 07841 517543.
Numbers are limited so prompt booking is recommended.