How amazing volunteers and their 'befriender' dogs are making a difference to patients at South West Yorkshire Partnership NHS Foundation Trust
Background
For #VolunteersWeek, the Society for Companion Animal Studies (SCAS) is highlighting the work one member leads to bring 'Befriender dogs' into hospital wards to support patients.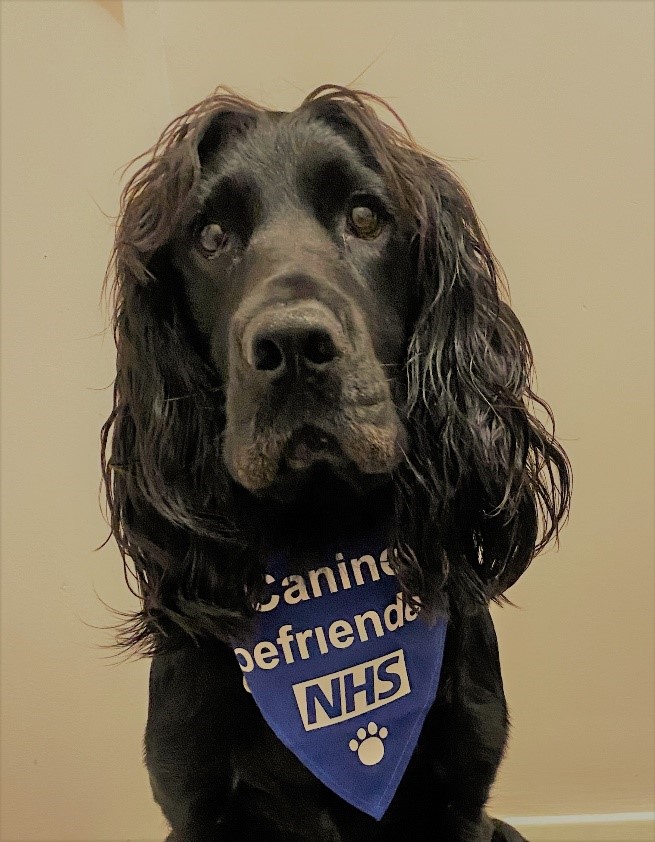 In January 2020 the volunteer co-ordinator in the pastoral and spiritual care department at South West Yorkshire Partnerships NHS Foundation Trust, launched a new programme to bring  temperament assessed dogs into the wards to offer therapeutic support  to individuals experiencing mental health difficulties.
However, as a result of the pandemic, the programme was temporarily grounded because of the understandable concerns raised about transmission risk to patients, staff and other third parties involved with the hospital.
After extensive and thorough consideration and review by the Trust, the pastoral and spiritual care department was not only able to re-commence the programme but was fortunate enough to recruit a further four wonderful canine 'befrienders', along with their volunteer owners/handlers, of course, to join the existing team of three.
'Befrienders' and their owner/handlers are carefully assessed by experts for their important work
Following a detailed and robust temperament test conducted by a highly experienced dog behaviourist to take part in the unique therapy programme, 'Befriender' dogs were also assessed to ensure the suitability of their temperament to interact with different people and for their response to being in different environments.
In addition, owners/handlers were also required to pass a detailed and thorough assessment to work with their dog in the hospital environment, as well as needing to pass the Trust's formal volunteer recruitment process and meet their requirements.
Volunteers are key to making a difference!
Having successfully completed the necessary assessments, these special dogs, and their equally special owners, are ready to join the existing team in visiting the mental health inpatient wards on a weekly basis to spend time with individuals who are experiencing mental health difficulties, and the feedback to date has been highly encouraging.
As Angie Barker, befriending project and volunteer support co-ordinator, South West Yorkshire Partnership NHS Foundation Trust explains,
"Experience has taught us that dogs can play a key role in supporting individuals who are experiencing such difficulties as they can reduce stress and anxiety and provide a distraction from upsetting symptoms, as well as promote social interaction and reduce loneliness. These incredible dogs provide unconditional acceptance, which is particularly beneficial for individuals who struggle to form connections or relationships with other people.
She adds, "Spending time with the dogs can also help individuals to develop their communication and social skills; some people are more comfortable in engaging with animals than they are with other people. These dogs seem to have a calming effect on peoples' moods and create a positive and relaxed atmosphere on the wards which then continues long after the visit has finished."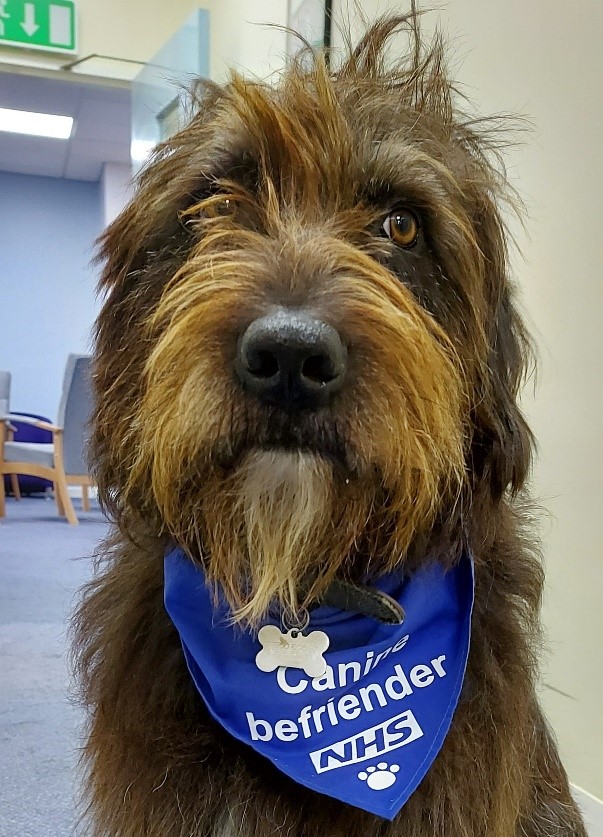 As Dr. Elizabeth Ormerod BVMS, Chair of SCAS explains, "Angie and her team and the incredible dogs and their handlers demonstrate the success for AAI in hospital, as the dogs are naturally attuned to recognise when someone needs support or attention. We understand a therapy dog visit would not be appropriate for every type of patient, however, where it is possible, the results of this programme show that patients, staff, and visitors can enjoy the benefit of the human-animal bond when they see one of our dogs on the wards. However, it wouldn't be possible without the support from volunteers. We hope people will be motivated and inspired by this story during National Volunteers' Week 2021 to see how they might also make a difference volunteering with their pet at a local Hospital or community group."
Angie Barker is one of many SCAS members delivering health benefits through Animal-Assisted Intervention programmes in a wide variety of therapeutic contexts. If you would like to know more about the work of SCAS and the benefits of membership, go to http://www.scas.org.uk/get-involved/membership/
#VolunteersWeek