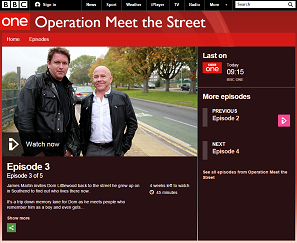 This week, the BBC have been airing a new series looking at loneliness in Britain.  James Martin takes celebrities back to a street they grew up on to see who lives there now and help set up a local social network in a campaign designed to tackle the issue of loneliness in the UK.
You can watch the episodes on BBC iPlayer.  Tomorrow's episode will be touching on how animals can help combat loneliness for some people.  You can watch it at 9.15am tomorrow morning (Thursday 18th December) and the final episode is on Friday at the same time in the morning.
Watch Operation Meet the Street on BBC iPlayer
More information about the benefits of the human-animal bond can be found on the SCAS website.  We've prepared a special page to signpost you to some of the most relevant parts of our website HERE.