Animal-Assisted Interventions (AAI) has experienced an unforeseen rise globally.  The primary goal of AAI is to render psychological, cognitive, physical and social benefits to clients and is delivered in diverse facilities, institutions and public spaces.  AAI being a relationship-based approach, it's efficacy is based on different factors including appropriate choice of animal species, care protocols, reciprocity in the triadic relationship between the animal, the handler and the client, and welfare of the animals involved and client safety.  Dr. Brinda Jegatheesan will discuss the extent to which the safety of the animals and clients involved in AAI can be ensured by contrasting poorly versus carefully planned AAI practices from a variety of contexts globally. Best practices in planned AAI in different facilities such as in schools, nursing homes, juvenile detention centres, hospitals and public spaces such as airports will be addressed. The talk will also include the importance of biodiversity in facilities as a means to ensure equity and access for all individuals and the importance of sustainability of programs. Use of wildlife in AAI poses not only as a threat to biodiversity but also places clients at risk from zoonotic diseases. The International Association of Human-Animal Organizations (IAHAIO) has developed a White Paper on Guidelines for the Wellness of Animals involved in AAI and the SCAS Code of Practice for AAI provides standards for UK organizations. Multicultural issues concerning parental socialization of children on responsible stewardship towards animals and the moral dimension in discourses of philosophers, theologians and humanitarians and in different religious scriptures concerning animal welfare have led to the perspective of benevolence and consideration of the welfare of all animals. Responsibilities of local and national governments, consumers and the media will be addressed.
Speaker: Dr Brinda Jegatheesan MEd, PhD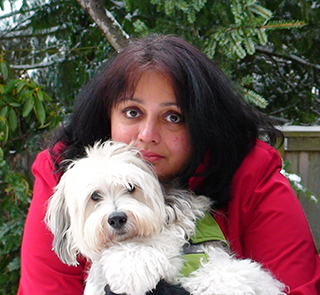 Dr. Brinda Jegatheesan is Associate Professor at the University of Washington, Seattle, USA. She specializes in animal-assisted interventions and psychological wellbeing of children, multicultural issues in human-animal interactions, animal welfare in AAI within the One Health-One Welfare framework, bioethics in AAI, and the Link between animal abuse and family violence. She addresses issues of diversity, equity, access and inclusion on a local and global level. The overall goal of her efforts is to engage in ongoing collective conversations to inspire actions for change in therapeutic and working environments for humans and animals. Dr. Jegatheesan is Vice President Development and Outreach for the International Association of Human-Animal Interaction Organizations (IAHAIO) and serves on the board for the International Society for Anthrozoology. She is a Fellow at the Institute for Human-Animal Connection at the University of Denver.