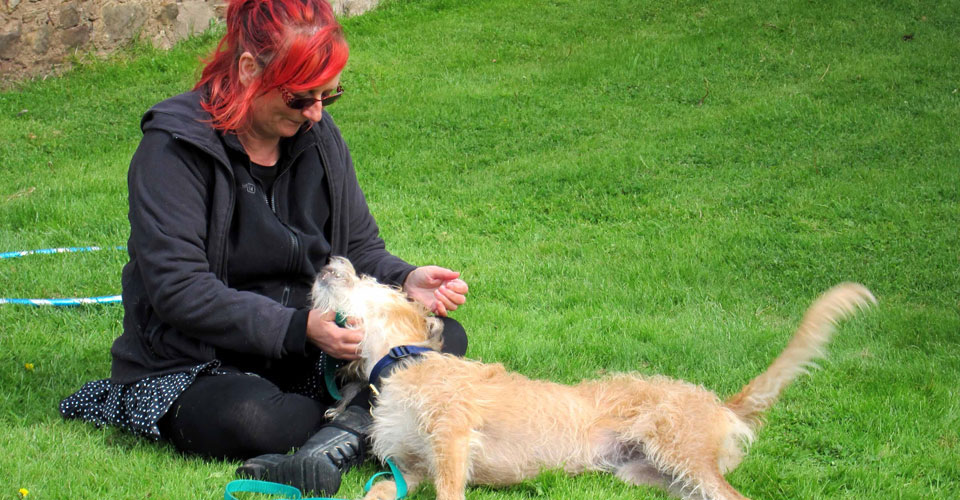 Lucy is a practitioner of Human-Animal Interventions (HAI). Her background is in Social Work, Play Therapy and incorporating her dogs into her work as a Certified Animal Assisted Play Therapist®-Supervisor-Instructor with the International Institute for Animal Assisted Play Therapy®. Lucy has over 15 years of experience in CAMHS, and has worked in various voluntary agencies with children and families for much longer.
With her HAI work, Lucy started out as a Pets as Therapy volunteer before going through the 2-year process of training and supervision as an Animal Assisted Play Therapist® with IIAAPT (2006), and has since completed their competency-based certifications as a supervisor and instructor. In 2010 she established "Paws 4 Play" for her Canine Assisted Play Therapy®️work. She specialises in working with children who have experienced trauma, abuse and neglect and the loss of their birth families. In 2016 she was honored with the Kirrie Award by the IIAAPT for "outstanding contributions and dedication to the field of AAPT."
Lucy is the Facebook lead for the British Association of Play Therapists, an assistant dog trainer for Bronte Canine Care and helps at local animal rescues.
She has presented at the People & Animals conference and had work published in the BAPT Magazine, the International Association of Animal Behaviour Consultants Journal, and the Tails of AAPT Newsletter.