There is increasing evidence of the supportive role pets play for people with mental health conditions. Pets have been shown to distract people from upsetting symptoms and experiences, offer an important source of comfort and routine, and promote social interaction.
Helen Brooks, SCAS Trustee and Senior Lecturer at the University of Manchester, along with colleagues from the Universities of Southampton and Manchester looked at the role of companion animals for people living with a mental health condition.
Whilst many of us are aware that interactions with animals can decrease stress, increase our physical activity, increase our social interaction and decrease loneliness, the researchers wanted to gain an in-depth explanation of the day-to-day role that companion animals play.
Follow the links below to read about this research.
Video: The Hidden work of pets in helping people with mental health problems
Animation: The hidden role of pets in the management of mental health conditions
'He's My Mate You See': A Longitudinal Critical Discourse Analysis of the Therapeutic Role of Companion Animals for People Living with Severe Mental Illness
Papers: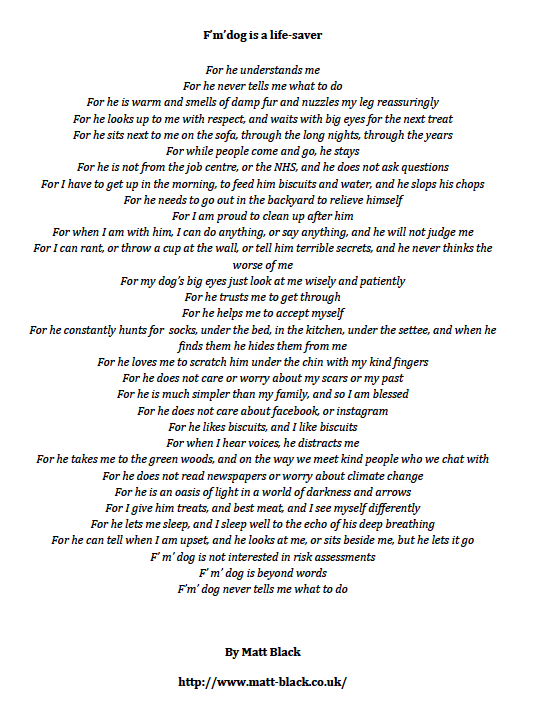 Warning on Autism Service/Support Dogs
Below is a warning that was release by Blaenau Gwent Trading Standards in July 2016.
Blaenau Gwent Trading Standards has warned families considering buying an autism service/support dog to be on their guard when choosing the company or trainer who is supplying the dog. They advise families to check whether they are registered with Assistance Dogs International (ADI), which runs an accreditation scheme for charities and other not-for-profit organisations. If they're not ADI registered, Trading Standards say families should do as many checks as possible, including speaking to previous customers and looking at reviews.
Blaenau Gwent Trading Standards issued the advice after receiving a number of complaints from families who have paid considerable amounts of money for autism support dogs that have turned out to be unsuitable to perform their role supporting children on the autism spectrum. They say this has caused a great deal of emotional upset for the families involved as the dogs have had to be rehomed and the families have suffered financially.
Although The National Autistic Society is not a service/assistance dog provider, we understand that some families have found them beneficial, particularly in relation to increasing independence and alleviating stress. We have previously advised families to seek out reliable and robust information before making decisions about a support dog provider and to report any concerns they have about a trainer or company's practice to the relevant authorities. Although this is a local warning, we feel it's important to make the wider public aware, particularly in light of a scandal around Service Dogs Europe in 2015.
Currently, there are no official qualifications required for assistance dog trainers in the UK. We understand that campaign groups are lobbying for the sector to be regulated.
However, all members of Assistance Dogs UK, a voluntary coalition of not-for profit organisations that provide assistance dogs, are accredited by ADI and train dogs to strict guidelines.
As reported by Wales Online, a spokeswoman for Blaenau Gwent County Borough Council said: "If customers decide to enter a contract with a trainer who is not registered then consumers should be on their guard and do as many checks as possible.
"Speak to previous customers of the business and carry out internet checks/reviews. Do not on any account just rely on customer review information placed on the businesses' own website as this information can often be misleading with poor reviews removed.
"Service dogs are expensive and require many months of training and it is essential that the right dog is matched with the handler/child.
"If a trainer is offering a dog that can be trained in a relatively short time period for a very attractive price be very aware of the old saying: 'If something seems too good to be true it usually is not true."
The National Autistic Society advises anyone with concerns about a service dog provider, its services or fundraising methods or who is seeking redress, to contact:
Please visit Assistance Dogs UK's website for more information. They also have advice for people considering getting an assistance dog, owners of assistance dogs and providers. Please also see our information on choosing the right approach to strategies and interventions to support autistic people.
Submission from The Society for Companion Animal Studies (SCAS) to the Jo Cox Commission on Loneliness: The Role of Companion Animals in Mitigating Loneliness and in Supporting Healthy Ageing