2019 Animal Assisted Interventions:  SCAS Code of Practice for the UK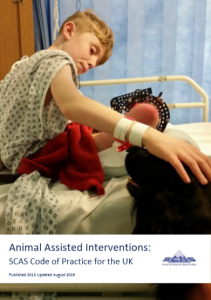 There is irrefutable evidence that AAI programmes can confer many benefits to clients, staff, visitors, animals and the wider community.  The presence of animals helps to normalise a facility and provides an opportunity for the giving and receiving of nurture and for tactile comfort.  Animal presence produces measurable positive physiological responses in neurotransmitter levels, improved cardiovascular function and a reduction in the levels of cortisol, the stress hormone. The elevation in oxytocin levels, for example, facilitates social interaction, improving communication between residents and with staff. Mood is elevated, people are happier. Stress levels for residents, staff and visitors are reduced.
Consequently, organisations are increasingly introducing animals to health and social care facilities and to educational establishments as visiting and/or as communal resident animals.
However, the introduction of AAI programmes requires careful planning to help ensure that such interventions are safe for all involved and that animal welfare is not compromised. The SCAS Code of Practice in AAI informs professionals, patients and the public about key steps required to achieve best practices. The Code encourages interdisciplinary collaboration across the caring professions in the planning, development and maintenance of programmes; and between practitioners and researchers in documenting outcomes. Through such collaboration, programmes become more effective and sustainable.
The SCAS AAI Code of Practice has been revised to reflect current understanding of AAI particularly in relation to safe practice and animal welfare. Advice on zoonoses has been expanded to address issues pertaining to farm animals, exotic species and risks associated with raw meat products.
The Code is a living document and will be updated as new evidence is available.