This talk will explore a collaborative model of providing Animal Assisted Therapy (AAT) working closely with occupational therapists. Contributions from occupational therapists working within our projects and our handlers will demonstrate how some of the AAI programmes ay Dogs for Good work in practice, in different working environments.
Selina will start by summarising the working model of the Community Dog Programme offered by Dogs for Good, emphasising how this model supports the welfare and wellbeing of both the human client and the dog.
Blandine Vasset, an Occupational Therapist from Berkshire Healthcare NHS Foundation Trust will then introduce her role in establishing an Animal Assisted Therapy pilot for people with learning disabilities, where 'standard' occupational therapy approaches had not been successful. Selina and Blandine will discuss case studies from this pilot. Following the positive results of the pilot project, Bracknell Forest Council and Dogs for Good formed a partnership, bringing Animal Assisted Therapy into mainstream social care practice for the first time in the UK.
Claire Lush, Dogs for Good School Dog Handler working in the Vale Federation of special educational needs schools will then explain how she and her community dogs can support goals such as social communication and emotional regulation. Senior Paediatric Occupational Therapist Nadine Stacey will explain how collaboration with Dogs for Good supports the learning outcomes in children from early years through to post 16 through animal assisted therapy and education. She will explain how traditional OT methods can be combined with AAT to meet these goals, and Claire will emphasise how this working model supports the wellbeing of the students and the dogs.
This talk will demonstrate how multidisciplinary teams can work together to plan and carry out interventions that are safe, effective and meet the needs of all involved.
Speakers:
Selina Gibsone MSc CABC; MSc Psychology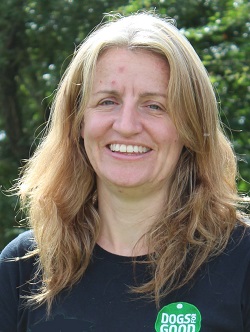 Selina has been in the role of Development Manager at Dogs for Good since 2012, working on a range of projects developing ways to provide AAI and assistance dogs for a range of client groups including those living with dementia and autism. She has worked across the assistance dog and AAI fields for over 20 years, gaining much experience both in the UK and abroad. She has a MSc in Companion Animal Behaviour Counselling and recently completed a MSc in Pyschology. She has a great interest in the Human-animal bond and the ways in which dogs and people come together.
Blandine Vasset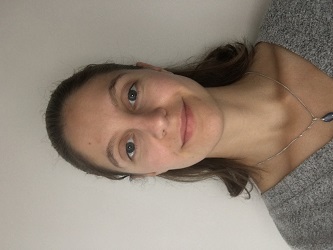 Blandine is an occupational therapist with Berkshire Healthcare NHS Foundation Trust Blandine Vasset is a French Occupational Therapist who joined the NHS in September 2015. She is part of the Community Team for People with Learning Disabilities (CTPLD), working with Bracknell Forest Council. Her role is to help people with learning disabilities to improve their quality of life skills, independence and safety. She is also responsible for Quality Improvement Projects. Blandine has worked closely with Dogs for Good since 2016, where she was instrumental in establishing an Animal Assisted Therapy pilot for people with learning disabilities at the Council.
Claire Lush
Claire is a Community Dog Handler for Dogs for Good, based at the Vale Federation of SEN Schools in Buckinghamshire. Claire is also a member of INTODogs and has a wealth of experience working with dogs in support and companion roles. Claire has been working with animals for 19 years; and has a passion for working with children and adults to harness the Human-Animal bond, promoting high wellbeing standards for all
Nadine Stacey
Nadine is a senior paediatric occupational therapist, sensory integration advanced practitioner with 20 years post qualification experience. Commissioned from the Pace Centre; Nadine is working at Booker Park School and Stocklake Park School to support children and young people in individual and group settings. Nadine works closely with Claire, our School Dog handler, to provide AAT for the students.