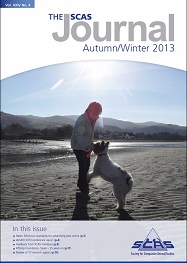 SCAS publishes a quarterly journal containing articles, news and reviews relating to the human-animal bond.
SCAS members receive this journal free of charge in electronic format for online viewing or download.  If you are a member and would like to download your free electronic copy of the SCAS Journal please first login and then visit the members-only area.
If you wish to purchase a single hard copy of the journal please do so by secure online below or please send a cheque to our postal address.
You can now also subscribe to receive your copies of the SCAS journal by post as a hard copy. Subscriptions are annual and available through Paypal:
If you would prefer to send a cheque for your subscription please make payable to Society for Companion Animal Studies for the correct subscription amount (see below) and send to us at SCAS, Airport Business Centre, 10 Thornbury Road, Plymouth. PL6 7PP.Prices are: Annual subscription to SCAS journal hard copy by post:
Dispatched to UK destination: £30 per annum
Dispatched to EU destination: £40 per annum
Dispatched to destination outside the EU: £66 per annum
Please note that hard copies will generally be dispatched within 3 weeks of the journal publication date.