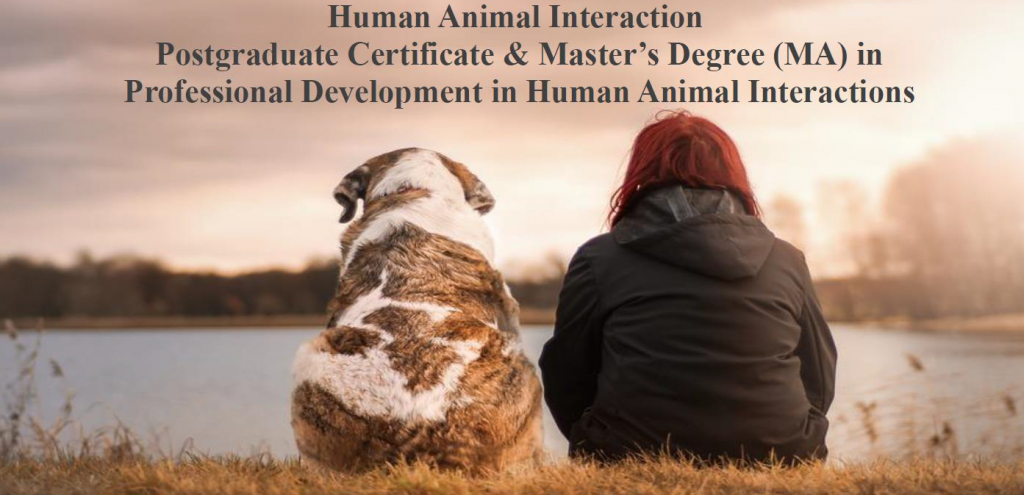 A new opportunity for students and professionals interested in expanding their knowledge and expertise in Human-Animal Interaction studies!
Postgraduate Certificate & Master of Arts Degree (MA) in Professional Development in Human-Animal Interactions (via distance learning).
Led by top clinicians and researchers in the field, the programme offers learners foundational knowledge related to theory, research, and the application of the human-animal bond and animal-assisted activities and therapy. The MA programme and Postgraduate Certificate options cover ethology, animal sentience, emotion, ethical practice with a keen eye on animal welfare, partnership with animals over use of animals, and culture and diverse perspective of animals across groups.
This offer is through the Centre for Professional and Economic Development at the University of Chester, UK. You will join a vibrant online community of learners interested in sharing their interest in professional practice and human-animal interactions.
To apply: Send your CV and letter of introduction to carole.morley@pdf.net
Faculty within the programme are on the cutting edge of publishing research related to ethics and competent practice within human-animal interaction studies and welcome partnership with students in pursuing their career and research ideas.
For more information about the course or to arrange a meeting with faculty members, please contact Carole Morley: carole.ferro@pdf.net