Are you aware of our Pets for Life campaign?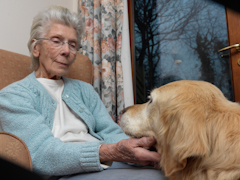 Approximately one quarter of all people over retirement age own pets but SCAS research revealed that the majority of care homes and sheltered housing complexes in the UK do not have pet policies resulting in many older people having to part with their pets.
There are many situations where people of all ages find themselves facing difficulties and challenges when wishing to keep their pets with them in their homes. This can be as a result of a change in accommodation, a change in housing policies or other reasons beyond the control of the people and animals involved.
Find out more about our previous work with the Pets for Life campaign and get involved by joining one of our two new networking groups:
The Pets for Life Open Group is for people to discuss issues, share experiences or ask questions relating to the issues surrounding housing, homes, people and their pets. Everyone can join this group – so if you have been affected by housing and pet issues please do join the group and get involved.
The Pets for Life Working Group is for professionals and associates in the field to collaborate and work together with SCAS towards making positive change for people and their pets in relation to the issues people are facing with housing and pets.  If you would like to volunteer to help in this area and you have some relevant skills/background/knowledge to offer, please do request to join this group.