SCAS are delighted to announce the publication of the first Animal-assisted Interventions Code of Practice for the UK.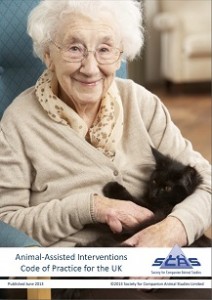 As public awareness of the benefits of animal-assisted interventions increases and more providers are looking to set up programmes, there is an ever growing need to ensure a consistent, responsible and safe approach to these interventions.
With the help of our valued members, SCAS has produced a code of practice for the field of animal-assisted interventions in the UK and this has been reviewed and contributed to by many key organisations, including:
APBC (Association of Pet Behaviour Counsellors)
BVA (British Veterinary Association)
BSAVA (British Small Animal Veterinary Association)
CAWC (Companion Animal Welfare Council)
Dogs for the Disabled
Pets As Therapy
PDSA (People's Dispensary for Sick Animals)
RSPCA (Royal Society for Prevention of Cruelty to Animals)
Riding for the Disabled Association
The Cat's Protection League
The Dog's Trust
The Donkey Sanctuary
Therapet
Working with a dedicated steering group drawn from our membership, many of whom are active in the field, discussions have been underway since July 2010 and has required a great deal of commitment and consideration from all involved.  Having completed the first draft, the Code of Practice was submitted for consultation to organisations from the animal welfare and healthcare sectors as well as dedicated AAI providers and SCAS members*.
Aimed at providers, the Code of Practice is intended to offer guidance on best practice for  delivering AAI effectively and safely. It offers a unified, structured approach for providers in the UK, helping to ensure that both people and animals benefit from their involvement in AAI.
With special thanks to all those involved in the development of the Code of Practice, without whose generous contributions, its publication would not have been possible.
Download the AAI Code of Practice (UK)
*A full list of the organisations who were invited to comment as part of the consultation is available upon request.