SCAS Chairman, Dr Elizabeth Ormerod writes: One of the workshops at the 2018 IAHAIO conference in Amsterdam was delivered by the Dolphin Swim Club, an innovative cutting-edge programme which employs virtual reality (VR) technology. By wearing waterproof VR goggles showing underwater video footage of dolphins, people perceive that they are underwater swimming with them. This very powerful and moving experience was enjoyed by the delegates – there was a swimming pool within the conference centre!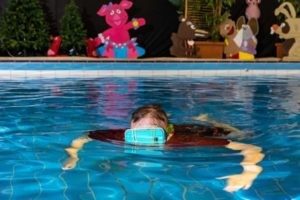 Some of us entered the pool, like this, to experience the effect more realistically!
Dolphin Swim VR was developed by Marijke Sjollema, a Swedish artist, and her husband Benno Brada, a business consultant. It arose from their many concerns about captive dolphins. Keeping dolphins in captivity seriously compromises their welfare. Their needs cannot be met, especially their spatial requirements, and their lifespans are shorter. There are also major concerns about the welfare of clients, many of whom are children, undergoing dolphin assisted therapy. These  include risks of injury and of zoonotic transfer. The high associated costs are unaffordable to many.
Dolphin Swim VR has many advantages. It removes the need for keeping captive dolphins. It effectively delivers an interaction, without any of the health risks or welfare issues associated with interaction with live dolphins. VR is low cost. And it is very accessible – it can be used on land as well as in water. There are many potential applications. For example, it could be used by people who are housebound, are hospitalised or long-term residents of institutions. And for clients whose health or behaviour might place animals at risk.
SCAS was pleased to award Georgia Smith funding to enable her to study Dolphin Swim at Stanford University. This is an important development in AAI. Dolphin Swim VR is currently being delivered at over 500 hospitals and care facilities across the globe. The Dolphin Swim Foundation is making their programme easily accessible to all.
Marijke Sjollema and Benno Brada must be congratulated for their compassion and creativity in developing this wonderful VR AAI programme and in making it easily accessible.
I heard Georgia deliver an outstanding presentation of her study trip recently at a meeting in York. We wish her well in her future research.
Dolphin VR at Stanford University
A report by Georgia Smith
Thanks to help and support from SCAS, over 50 individuals ranging from ages 6-75 were able to swim with dolphins in virtual reality (VR). My four weeks in California started by working closely with Stanford University's children's hospital, shadowing their research assistants collecting data on how VR can reduce stress and anxiety during a range of procedures including anaesthesia induction, nasogastric tube placement and cast removal. They downloaded our VR footage allowing children to choose swimming with dolphins as their form of distraction.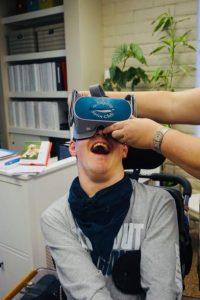 I then contacted SNAP, a local aquatics programme, which provide swimming sessions for children with disabilities and learning difficulties every Friday and Sunday. I attended these sessions and presented the volunteers and families with the headset. The children were then able to engage in a sensory experience of swimming with dolphins underwater. Our greatest success stories from these sessions were as follows: one boy with ASD and severe sensory needs had never been able to manage his anxiety to a level that enabled him to engage in sensory integration therapy. However, when he caught sight of the dolphins in the headset he was completely engaged and swam around the pool screaming with joy. His dad was reduced to tears from happiness, thanking us for providing this opportunity. A few other "swimmers" who had been attending these sessions for many years and had never put their heads underwater due to fear, put the headsets on and completely immersed their heads underwater searching for the dolphins. This has huge implications on helping them to develop their swimming to ensure their safety in future situations. And another young boy who is deaf and has learning difficulties refused to take the headset off all session because he was so full of joy to be swimming with dolphins. When speaking to his parents they said he saw dolphins on a recent trip to Vegas and was extremely upset that he could not get in the water with them. Thanks to Dolphin Swim he has now swum with dolphins, but in a manner which was safe for both him and dolphins.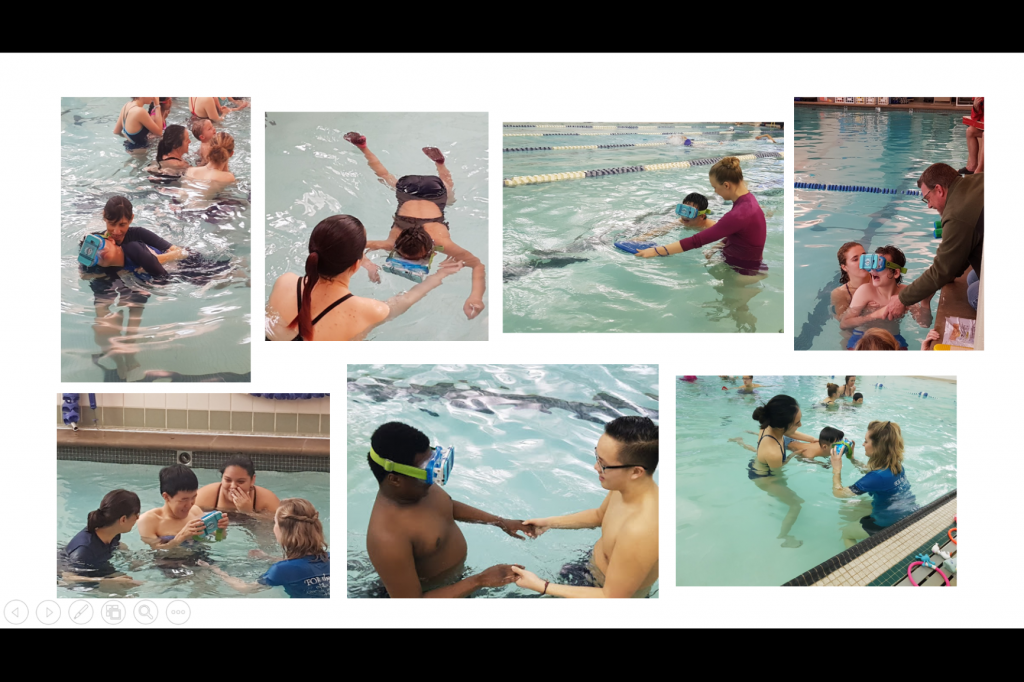 During my time at the hospital I arranged meetings with many departments including palliative care, chronic pain, child psychiatry and eating disorders. I presented to their medical and psychology teams explaining the benefits of this activity and was positively received.  We had discussions about potential future studies to explore how dolphin VR might benefit these patient groups. An example would be encouraging children with eating disorders to engage in the guided meditation dolphin clip before mealtimes as both a distraction, stress and anxiety reducing activity but also an outlet for providing a discussion point with peers, family and staff instead of focusing on the fear eating brings. This would encourage positive feelings surrounding mealtimes and potentially speed recovery time.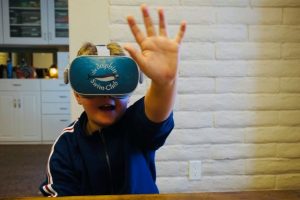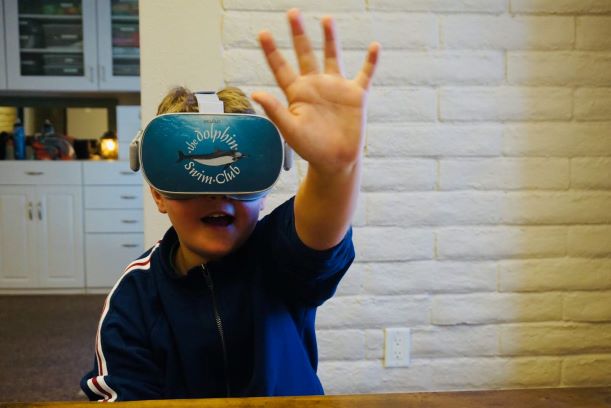 In my final week there, I had the amazing opportunity to visit an animal-assisted therapy service called Dogwood Therapy based in New Mexico. Melissa Winkle, the founder, is an occupational therapist and is also a dog trainer. She trains her own therapy dogs, and also trains dogs to be placed as assistance dogs. (NB in N America these are referred to as service dogs). Melissa delivers AAT  to people from a wide range of abilities, and is also involved in programme development and evaluation.  During the two days I was there over 30 clients engaged with the VR during their sessions. Again, we had an immensely positive response, many requesting that the VR was available permanently. This has encouraged The Dolphin Swim Club to make their technology and footage available for AAI services to purchase and utilise within their programmes.
I would like to thank SCAS from the bottom of my heart for this opportunity which provided many people with a wonderful animal-based experience. It also allowed me to raise awareness and education on why dolphins should be appreciated from a distance. It has also helped me to develop ideas for my research project. Due to the success of working with children with ASD and learning difficulties within a swimming pool environment, I have decided to conduct my study with similar participants with a local aquatics programme.  I will explore the increase of prosocial behaviours after the VR sessions compared to the control group, which will be those undertaking the usual swimming sessions.