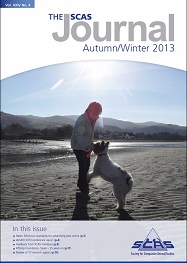 After a break from publication as a result of our restructure, members should now be aware that the SCAS Journal for Autumn/Winter 2013 is now available for free download from the members-only area of our website.
If you are a SCAS member and have not yet registered on our new website in order to access the members-only area please do so HERE.
Hard copies of the journal are now also available and can be purchased securely online or by cheque.  Please order your hard copies HERE.
From Spring 2014 the SCAS journal will continue to be published quarterly.