By Sandra McCune for Society for Companion Animals (SCAS).
Did you feel particularly lonely or socially isolated at times during the pandemic lockdowns? You are not alone if you did. Many people struggled with restrictions on time with friends and family and just being among people less often in their workplaces or communities. As people spent more time at home, headlines spoke of the surge in pets being acquired for company, to offset loneliness and isolation, conditions described as an epidemic of our times, and that was before COVID19 came along.
Pet owners know only too well about the joy that comes from living with companion animals. Although close relationships have existed between people and pets for centuries, it's only relatively recently that organisations such as the Society for Companion Animal Studies (SCAS) and others have begun to explore the health benefits of the human-animal bond, and we are reading reports from leading organisations about the positive effects companion animals may have on social isolation and loneliness.
The impact of the pandemic on social interaction
Social isolation and loneliness afflict millions of people in the UK and worldwide. The physical health risks of loneliness may be especially severe for older adults, who are likely to experience stressful life transitions and health issues. But other vulnerable people such as those with mental health conditions, and those who live alone, were also affected more than most by an increased lack of social interaction during the pandemic era.
Pet owners are convinced that living with companion animals improves their mental health and psychological well-being. In a US survey in 2021, 87 percent of pet owners reported they had personally experienced the mental health benefits of living with a companion animal. However, a recent review of scientific studies found that the mental health of pet owners was not measurably better than that of people without a companion animal during the pandemic lockdowns. People who are suffering from loneliness may be more likely to acquire a pet than people not affected which might explain why some studies have found higher loneliness scores in pet owners than those without a companion animal but the mismatch between people's positive perception of companion animals' ability to improve mental health and what the science has found remains a bit of a mystery.
Loneliness Awareness Week 2022
Loneliness Awareness Week 2022 is encouraging people to accept that we can all get lonely. We can help others, and ourselves, to reach out and learn to manage loneliness with companion animals – an amazing social buddy to help people who might be experiencing these feelings.
Having some fun time with a companion animal does not have to mean a dog or a cat. Watching fish in an aquarium can help reduce anxiety and increase relaxation. A guinea-pig could be ideal if you have limited space but still want to enjoy the many benefits of pet companionship.
Many people have been hesitant to resume pre-pandemic levels of social interaction but as the threat of COVID19 recedes in many countries, there has perhaps never been a better time than Loneliness Awareness Week 2022 from 13th to 17th June to enjoy and share your pet with someone who might benefit from being with them. With this in mind, if you want to participate in Loneliness Awareness Week 2022, here are three ways you can get involved with your pets: –
1. Reconnecting with friends and family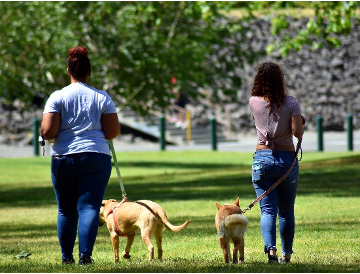 If you haven't spoken to a friend or family member in a while, why not reach out and catch up with them, as you never know what they might be going through. Your visit may come at just the right time to make them feel better. They will probably be really happy to hear from you again, and they'd be extra thrilled if you brought your dog to share some joy or to join you for a walk. Added to which, stroking a dog may increase hormones that promote happiness and relaxation while reducing stress. You and the person you decide to visit will probably leave feeling calmer, and hopefully, less lonely.
2. Volunteer with a pet therapy team
One of the best ways you and your pet can help to combat loneliness, is to volunteer your time and provide company to those in need. Hospitals, nursing homes, schools, and other places appreciate the efforts of volunteers who visit the lonely. College students can also benefit from therapy dog and animal visits.
If you have a dog, for example, and they are calm and friendly, look into the requirements involved in becoming a certified therapy dog team for Pets as Therapy or other organisations. Your local veterinary surgeries should be able to provide you with helpful information and suggestions about local organisations to contact.
3. Use your dog's superpower to meet new people!
Dogs are superb connectors. Their superpower is connecting to you and connecting you to other people. If you would like to meet more people, try walking your dog at the regular times other dogwalkers are out. That might be after the school run in the morning or before the school pick up in the afternoon. Maybe it's early evening, at the end of the workday. Ask other dogwalkers when and where dogwalkers tend to meet up in your community. Chances are that you have at least have one thing in common – a love of dogs!
Perhaps start up a dog meeting group through your local Nextdoor neighbourhood network. You will not only connect yourself to more people in your community, but you and your dog will enrich the social connections that increase  getting to know people, friendliness and social support. This could lead to a new friendship, which will not only help with the other person's loneliness, but yours, too. And your dog or pet, could make a new friend as well.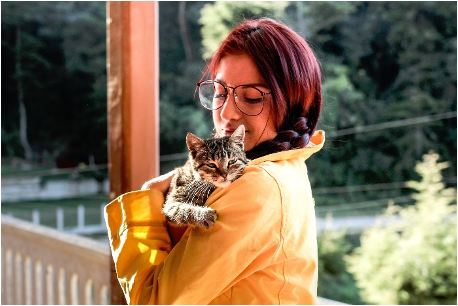 Will you and your pets reach out to others during Loneliness Awareness Week 2022? Let us know by sharing your photos and stories on Facebook and Twitter. Please remember to use #LetsTalkLoneliness and #LonelinessAwarenessWeek
For more information about SCAS visit www.scas.org.uk/